Overtime and due to many factors such as gravity, ageing & sun exposure; wrinkles and signs of ageing on the face may appear. Facial Aesthetics also known as Facial Rejuvenation treatments are the gentle way of achieving youthful and natural results. At Wisdom Dental we offer a range of non-surgical treatments, carried out by a fully trained & qualified dentist.
Anti wrinkle treatments
Anti wrinkle treatments are a natural substance derived from a micro-organism which temporarily relaxes the muscle & reduces the appearance of fine lines and wrinkles. The main areas are the lines between the eyes, forehead lines and crow's feet. This treatment produces effective yet natural results & although the muscle is relaxed, will leave you still able to frown, smile and use all facial expressions.
Dermal Fillers (Filling in deep lines and/or adding volume to the lips)
Dermal fillers are the safe and natural looking cosmetic treatment, which helps to restore fullness to the face and any areas where deep lines may have appeared. Dermal fillers, smooth away deeper lines and wrinkles in problem areas such as the grooves between the nose and mouth, marionette lines and around the lips. Fillers can also be used for lip augmentation, altering the appearance of the lips by increasing their fullness in the lip and around the boarder.
To help you decide which treatment is best for you, we offer all of our patients free consultations.
BEFORE & AFTER DERMAL FILLERS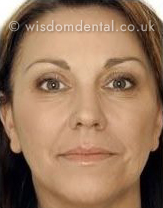 Before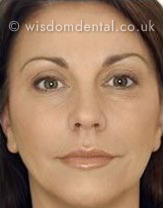 After
Practice Info
Address
Wisdom Dental
11 The Broadway, Acton, London W3 8HR
Call us today: 020 8993 2601
|Email: info@wisdomdental.co.uk
Opening Hours
Monday, Tuesday & Wednesday: 08.30 - 17.30
Thursday: 08.30 - 19.30
|Friday: 08.30 - 17.30
Saturday: 08.30 - 14.00